Before Christmas 2020, Jim Wright and daughter Suzanna shared this Christmas card/booklet and video, just right for the Covid times.
On Sunday, Nov. 22, 2020, Sheena Smith passed on peacefully at 83. Sheena belonged to the communities of both Cates Hill Chapel and St. Gerard's, where she was known for her warm Scotch accent and sense of humour. Our condolences to Sheena's daughter Tania Wood and family and friends. Read more about Sheena here.
For coronavirus reasons, the annual St. Gerard's retreat at Riverdell Retreat Centre on Bowen Island did not take place in 2020.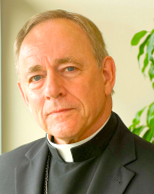 Coronavirus action: Archbishop Michael Miller sends updates to the Archdiocese of Vancouver as the coronavirus situation evolves. He began taking action in the light of a teleconference with BC Premier John Horgan, the health minister, and Public Health Officer Dr. Bonnie Henry, along with faith community leaders across British Columbia.

You can quickly access the readings for today's Mass, whether you can get to Mass or not. You can also access The BC Catholic newspaper or its many informed and inspirational Voices, and there's a wide-ranging RCAV.org website: the Roman Catholic Archdiocese of Vancouver.

As a precaution when we gather for Mass at this time of pandemic, individuals (or couples or families) allow some space around them.

After Mass, you're usually welcome to stay for free coffee/cookies—and chat if you wish, but now, as a coronavirus precaution, we've reluctantly put that on pause. We look forward to getting back to it soon.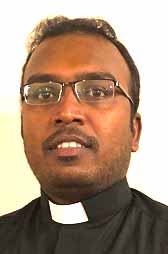 The St. Gerard's community welcomed Father Rosary Pratheep from Holy Rosary Cathedral to celebrate the 2019 Christmas Masses.
On Christmas Eve, pianist Helen Ashmore led carol singing, with a young parishioner on the violin. Their duets of classic carols inspired joyous participation in the full congregation.
In the 2019 Christmas season, there was a new Nativity scene near the entrance, with plenty of no-charge Christmas cards in front of it, created by Suzanna Wright. Everyone was invited to take any cards that they or recipients would treasure, and all four designs were gratefully received, with just a few cards left over.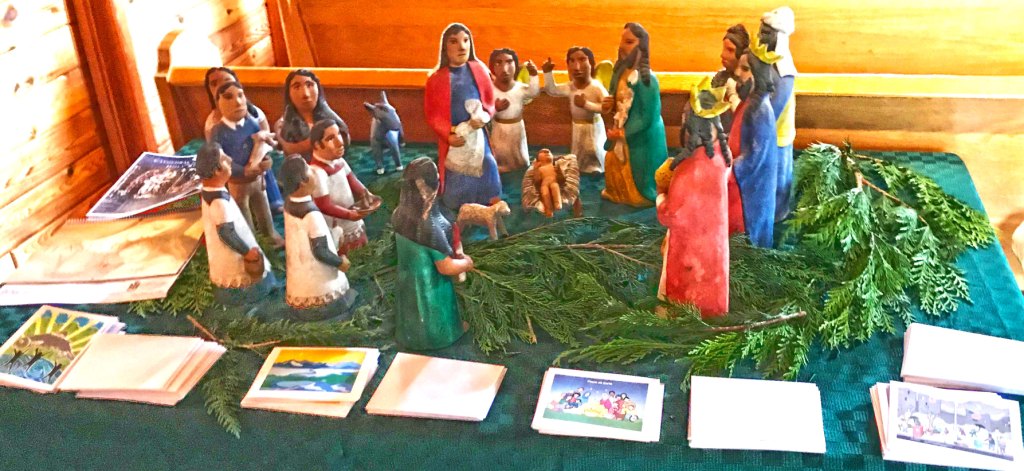 The Nativity scene (above), terracotta figures with a bit of whimsy, is a gift from non-Catholic Bowen Islanders moving away. It's from Mexico. One of the Christmas cards suggested that gospel-writer Luke "wanted readers to identify with the shepherds, who take up half his Nativity story, as well as with the family. People do that so much that Nativity characters often look Ugandan in Christmas cards from Uganda, Japanese in cards from Japan, and so on." Fittingly, the new figures have a Mexican look.

For the new year, 2020, Sister Jo in will move east to Jinja, Uganda from Kampala to help the Novices, new Sisters, with their learning and experience of the religious life. The Equator is at the bottom of the map, through Lake Victoria (blue). The neighbouring countries are Democratic Republic of Congo (left, west), South Sudan (north), Kenya (east), Tanzania (south) and Rwanda (southwest).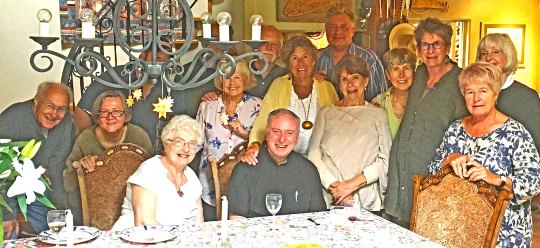 Father Jim Comey returned to St. Gerard¹s to say Mass on Sunday, August 11, 2019. He had served as shepherd of St. Gerard¹s for many years when he was pastor of Holy Trinity Parish in North Vancouver. In honour of Fr. Comey, Sheila and George Hunter arranged a sumptuous potluck lunch at their Bowen Island home.
Sunday, July 28, 2019 was a perfect day for a St. Gerard's picnic after Mass. Esther and Matthew Cowper hosted on his family's property on Grafton Bay. Deep in the forest, it is one of Bowen's hidden treasures, with a tree-lined path opening onto a sunny meadow, a healthy orchard, well-tended gardens and spectacular views. Picnic tables were set up on the lawn fronting the historic log cabin, built by Matthew's great-grandfather and still occupied and lovingly maintained. Guests brought salads and sides, and Chef Matthew's barbequed hamburgers had us lined up for seconds. Many thanks to Esther and Matthew and the centre of attention, eight-month-old David.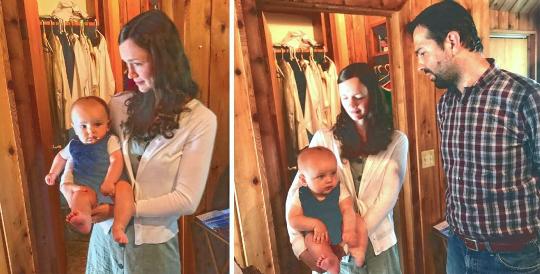 The St. Gerard's community is always happy to welcome people, and it has been a special joy to welcome David Cowper, newcomer to the planet. Above, David and his parents, Esther and Matthew, part-time Bowen Islanders who are active in St. Gerard's, stay around to chat after Mass on Sunday, July 21, 2019.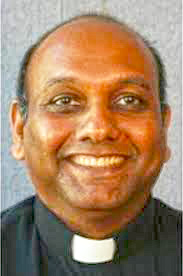 We're fortunate that Fr. Nelson Santos comes over to Bowen from Holy Rosary Cathedral to serve St. Gerard's, as he will for the 2019 Good Friday service, April 19 at 3 pm. (He's available for confessions before/after the service.) The engaging Father Nelson is known for the spiritual sustenance of his homilies, like this one about Jesus and church politics. It may surprise you until you realize the comments from Jesus and Fr. Nelson look ahead, in effect, to Pentecost Sunday—June 9.
Other priests like Fr. Anicet Pinto and Fr. Larry Lynn also serve us eloquently and well.
In Advent 2018, St. Gerard's once again made a focused effort to support the Bowen Island Food Bank. The nearby "Little Red Church," the United Church, has hosted the food bank for 22 years, with Sue Clark currently leading it. The Bowen Island Undercurrent drew attention to the food bank as one of the Bowen ways to heed the less fortunate.
Farewell: On Sunday, July 22, members of St. Gerard's headed over to the Little Red Church after Mass to give thanks to and for Rev. Shelagh MacKinnon. For two decades, she wonderfully served her United Church and the ecumenical faith community of Bowen Island and all of Bowen as a caring community, especially those most in need and even including the animals. Shelagh moved to Victoria, and we wish her ongoing happiness forever.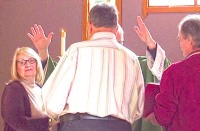 On Sunday, we welcomed Susan and Jeffrey Cada of Windsor, Ontario. At Mass, with Fr. Larry Lynn and the Cadas' daughter Colette from Vancouver/Bowen and Christina from Sun Valley and grandchildren, they celebrated their Golden Wedding Anniversary!
June 3, 2018, was probably the last time Fr. Peter Ha said Mass at St. Gerard's. He is left for Atlanta in mid-June. Thank you, Fr. Peter, for your dedicated service!
Congratulations to three of our former St. Gerard's priests, all remembered with great respect and appreciation. As announced in mid-April 2018, all three have new appointments as pastors: Fr. George Edatukaran at Saint Joseph's Parish, Mission; Fr. Rey Usman at Saint Andrew's Parish, Vancouver; and Fr. Dennis Flores at Saint Anthony's Parish, Agassiz.
A decade ago, Susi and Gene Spiering came across St. Gerard's while sailing from Vancouver. They liked our little church and church community so much that they started sailing across for Mass most Sundays. Susi would bring her guitar and often led the singing. Susi and Gene are actually from even further away—Wyoming. Now they are heading off from this home back to that one. Last Sunday, March 18, they said goodbye. We will miss them very much, but we know they will always be part of the St. Gerard's community.
Fr. Tim McCarthy, who sometimes served St. Gerard's, always well, has passed on at 82. His Funeral is at Christ the Redeemer, West Vancouver, on Monday, March 12, 2018, at 11 a.m.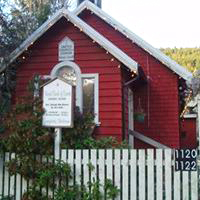 On Ash Wednesday, February 14, 2018, at 7:30 p.m., the people of Saint Gerard's Church, Cates Hill Chapel and the Bowen Island United Church shared an ecumenical service at the United Church, 1120 Miller Rd, "the Little Red Church on Bowen Island."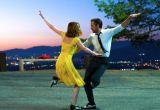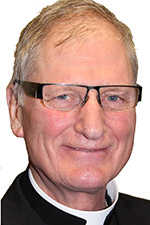 Fr. Larry Lynn, who often serves St. Gerard's, is featured in The B.C. Catholic's "Filmmaking priest hosts movie nights." There's a La La Land one on Friday, Oct 27, 2017 at 7 p.m. at St. Anthony's Parish Hall, West Vancouver (near 23rd and Marine). The movie night would likely run past the last ferry to Bowen (but not past the last water taxi).
Sister Jo has sent a new set of annotated photos for the display in the coffee area. They describe a Sacred Heart program, Choose Life, in Uganda. Download here.
St. Gerard's took part in Tilma, a diocesan initiative to enhance websites with a presence that best meets the needs. We had an excellent Tilma filming session on October 3, 2017, with over twenty St. Gerard's members taking part. In solidarity, another twenty-five expressed their regrets and good wishes. Tilma got cut short, but we will aim to use the video when we renovate this website.
Happy birthday, Eva Donnelly! Eva is a longtime member of St. Gerard's. As we near the end of July 2017, we are delighted that Eva has turned 90 years of age. Ad multos annos, Eva!
Fr. Peter Ha, who served St. Gerard's a few years ago, is back in that role in July 2017 and into the future. Welcome home, Father Peter!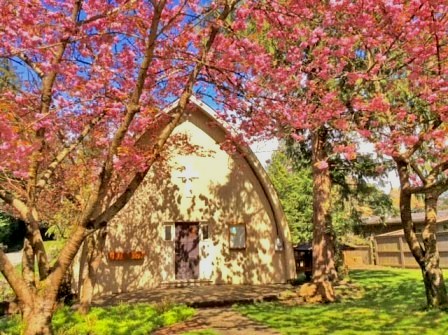 On July 9, we thanked Father Dennis Flores for his great service to St. Gerard's, with 26 members of the community taking part in a potluck lunch kindly hosted by Denise and Tom Smith. Fr. Dennis is now serving Saint Joseph the Worker parish in Richmond.
We hope Fr. Dennis will retain many happy memories of Bowen Island, including spring at St. Gerard's, as in this 2017 photo by Angela Powell.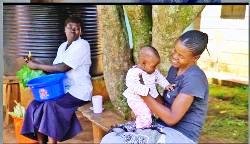 Sister Jo is on home leave from Uganda this summer. After a conference in St. Louis, she was with us at St. Gerard's on Sunday, July 23 and plans to be with us again on July 30. She also encourages us to view this new video about the sisters' work in Uganda and Kenya. It includes a short segment that features Sister Jo.
On Sunday, July 2, St. Gerard's was happy to celebrate the 93rd birthday of Charlotte Rowse of Prince Rupert. Charlotte accompanied the Mass hymns and, afterwards, an impromptu sing-along, all at the grand piano. Charlotte's extended family had come together on Bowen Island for the occasion, and about twenty of them joined her at St. Gerard's.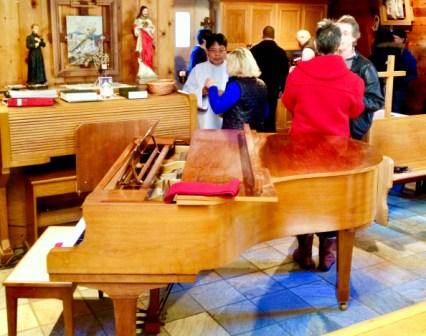 Thanks to the Bay family, St. Gerard's now has a grand piano. Shortly after this photo was taken—after Mass on February12, 2017— Fr. Dennis Flores (centre) had fun trying it out.

Our condolences to Fr. Dennis , who sent us this December 2016 message:

Dear Parishioners of St. Gerard's,
The joy of Christ's birth be with you!
I regret to inform you of the death of my mother, Honorata Oliva Flores. She peacefully passed away on December 25th, 2016 in Compostela, Cebu, Philippines.
Masses and prayers for her are being offered every day at 8 p.m. at her residenc, 491 Poblacion, Compostela, Cebu. The Mass of Christian Burial will be celebrated on Saturday, January 7th at 1:30 p.m. at the Archdiocesan Shrine of St. James the Apostle in Compostela, Cebu. Mother "Otang" will be buried in her family plot at Manila Memorial Park in Liloan, Cebu right after the Funeral Rites.
Kindly remember her in your prayers. Thanks.
Sincerely in Jesus and Mary,
Fr. Dennis
In October 2016, in response to messages from members of St. Gerard's, Sister Jo began, "I am well and right now thanking God for the gift of rain" after a five-month drought. She also sent the latest Horizons, a Uganda-Kenya quarterly that she helps edit.
September 5, 2016, was the 45th anniversary of the first Mass in St. Gerard's church. Click on the History link to relive the founding of St. Gerard's. Five years ago, we celebrated the 40th anniversary as "Fr. Beauregard Day," and you can scroll down from here for more about that happy occasion.
Each August, Robin and Hillary Butler of the St. Gerard's Community take a leading role in the Rotary Run for Rwanda, a hill-trail run on Bowen Island. In the photo, they're near the finish line on Saturday, August 27, 2016. Proceeds go to Komera, which helps deserving girls to finish school in rural Rwanda. The Butlers' daughter Margaret founded the charity after teaching in Rwanda, and the event proceeds go to Komera Canada.
We mourn the passing of Howard Streit of the St. Gerard's community on June 28, 2016. Howard was deeply loved by his wife Pat Boston, children and grandchildren, and he was a treasured friend of many Islanders. A service was held at Cates Hill Chapel on August 28.
Congratulations to Sheila and George Hunter on their 60th wedding anniversary. When they married in 1956, Sheila had just turned 20.
Maintaining a tradition, the 2016 St. Gerard's annual retreat was at Rivendell Retreat Centre on Bowen Island. With Fr. Dennis Flores' guidance, it was "one of the best and most rewarding ever." Participants hope Fr. Dennis will lead next year's retreat too.
On the vigil of the Ascension–on Wednesday, May 4, 2016―Fr. Pablo Santa Maria celebrated the Latin Mass with us at St. Gerard's.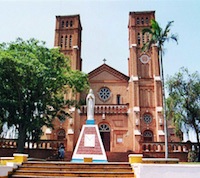 Sister Jo writes, "Recently I visited Sango Bay Refugee Camp with staff and students of Sacred Heart Primary School. It was a moving experience. Here is my write-up for our website."
Via Sister Jo, St. Gerard's took part when Pope Francis met with priests, seminarians and religious at St. Mary's Cathedral Rubaga (right) in Kampala on Nov. 28, 2015. Sister Jo has sent an illustrated description of the event. This rendition of "Njagala mbe mu abo" by a Kampala cathedral choir gives a sense of Lugaba hymn singing.
As 2015 draws to an end, a group of St. Gerard's members has been meeting each month to discuss scripture, focusing on the scripture readings for the next Sunday.
On August 23, 2015, Fr. Galvon featured St. Gerard's in this Holy Rosary Cathedral bulletin.
On Sunday, September 13, prayers were requested for Monika Sabathil of St. Gerard's, who is awaiting a kidney transplant, and Carmelita O'Hagan, who recently passed on at the age of 101, as well as their families, including Carmelita's daughter Mary Shields of St. Gerard's.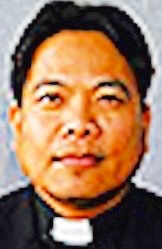 On Sunday, July 19, both Fr. Fred Buttner and Fr. Dennis Flores came from the Holy Rosary Cathedral for Mass. Fr. Dennis returned on July 26 and enjoyed a leisurely lunch with a St. Gerard's family on Mannion Bay before catching the 3:10 ferry. The Holy Rosary priests seem enthusiastic about St. Gerard's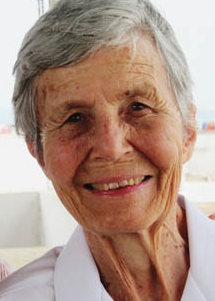 Sister Jo was in North America from East Africa for several purposes, including a U.S./Canada provincial chapter in St. Louis. She was delighted to be with the St. Gerard's community on Sunday, July 26, and she greatly appreciates the donations. Since Sister Jo sends updates like the March 2015 letter, there was no need for a presentation. After a few final days in Vancouver, she returned to West Arica. She is happily working full time even though she will turn eighty before the end of this year.
Fr. Stanley Galvon, rector of Holy Rosary Cathedral, has taken on a role like Fr. Jim Comey's. He celebrated Sunday Mass at St. Gerard's for the first time on July 12, 2015.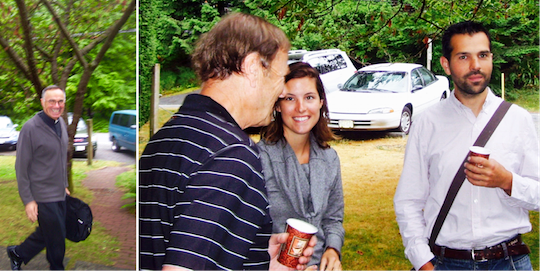 At left, Fr. Galvon hurries in from the ferry. At right after Mass, Warwick Bay, Jessica Mitts and Matthew Cowper chat over coffee. It seems that Fr. Galvon left them happy and pensive.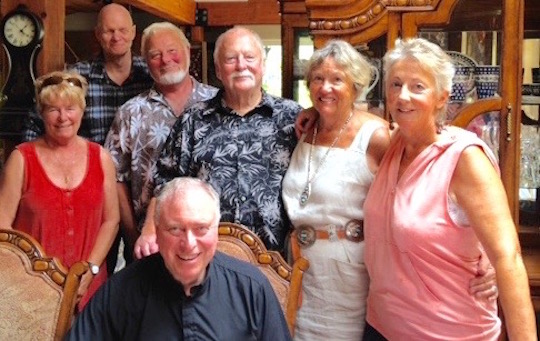 Fr. Jim Comey, our pastor who is retiring, is shown at a farewell lunch on June 28, 2015. He says "It has been a privilege and inspiration to serve at St. Gerard's. The people are so welcoming, and we have been able to create a more vibrant little parish. The enhancement projects have brought about many beautiful improvements in the chapel and the residence." He hopes to come back sometimes.
Sister Jo sent this March 2015 letter, with a focus on the sisters' work in Karamoja.
In Lent 2015, an informal group of St. Gerard's members viewed the Symbolon series of videos about the Catholic faith. After Mass each Sunday, those who so chose got together in the rectory, the little house next to the church on Miller Road. After viewing one of the videos, they would discuss it. It was valuable for both Catholics and non-Catholics.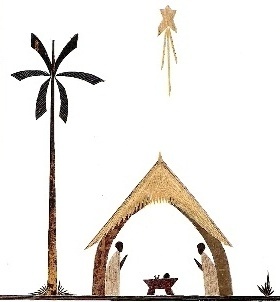 On Christmas Eve, December 24, 2014, we welcomed Fr. Jude Iloghalu of the Igbo people of Nigeria to celebrate the Nativity with us. Father Jude is visiting from the the Abakaliki Diocese. He resides at the Holy Rosary Cathedral rectory and is studying Pastoral Care at St. Paui's Hospital. If you click on Igbo people, you may find you can listen to Igbo hymns as you read.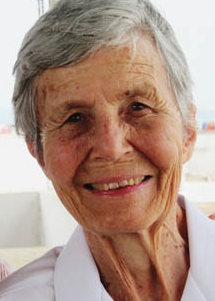 Sister Jo, rscj, of the St. Gerard's community is continuing her work in Uganda with the Religious of the Sacred Heart of Jesus. Sister Jo sent a 2014 Christmas letter and later a 2014 Christmas card.
We are sad that one of her rscj sisters was on Malaysia Airlines Flight MH17, shot down over eastern Ukraine. The late Sister Philomene Tiernan of Australia was around Sister Jo's age and a remarkable person, as we learn in this CNN report.
Thank you to the Archdiocese of Vancouver, especially Makani Marquis, for hosting our website with great service at no charge to St. Gerard's. With Makani's help, we have just switched to a new server that will speed up access to this site.
On Sunday, July 21, 2013, the parishioners celebrated Fr. Rey Day to thank Fr. Rey Usman for all his good work for St. Gerard's over the past two years. We invited everyone to a potluck lunch, and a camera caught a few of the participants (below).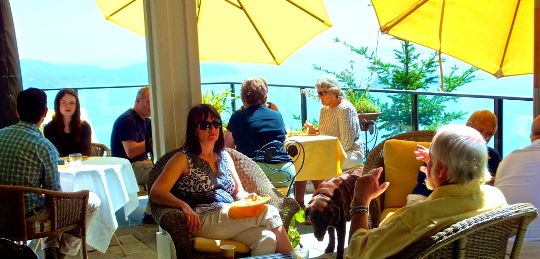 Sister Jo, rscj, invites us to visit the sisters' Uganda-Kenya website, as shown below.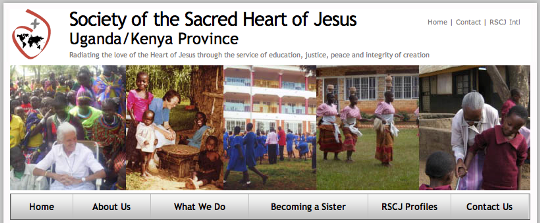 The next work party at St. Gerard's is on Saturday morning, April 20, 2013, 9–Noon, for spring cleaning inside and out. As well, the ongoing St. Gerard's renovation currently includes stone tiling of the floors, with new stone tiling in the sanctuary and, in time, the whole church. Organ repairs (air pump motor) are also underway; since the motor was very hard to access, there will be a new shed for it (outside but still near the organ).
Here's the St. Gerard's family on Sunday, April 14, 2013: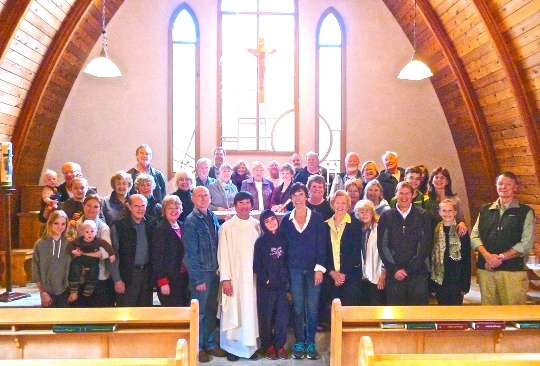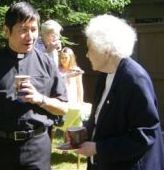 After a full life, Sister Marion MacDonald, scic, died on Nov. 15, 2012, in St.John, NB. A long-time administrator of St. Vincent's Hospital in Vancouver, Sister MacDonald was a founding member of St. Gerard's Church. We were fortunate and honoured to have sister with us in September 2011, at almost 91 years of age, to help celebrate the 40th anniversary of our church community.
November 2012 update: Sister Jo Wright, rscj, was in Canada from Uganda and enjoyed visiting St. Gerard's on three Sundays in October 2012. She returned to her work in Uganda and Kenya in January 2013 after remedies for her declining vision and hearing. Because of other health issues, she continued her Uganda-Kenya work from Halifax.
We welcomed Archbishop Michael Miller to St. Gerard's and a potluck lunch again on Sunday, August 26, 2012. We enjoy having the archbishop with us, and he seems happy too.
We thank Fr. Tim McCarthy for serving St. Gerard's for the month of June 2012.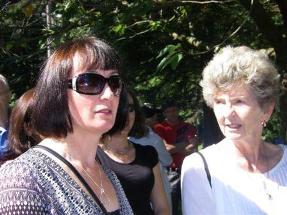 Father Beauregard Day: On Sunday, September 4, 2011, St. Gerard's Church celebrated the 40th anniversary of the Opening Mass . The Mass and reception celebrated the early days and ongoing spirit of Saint Gerard's, including hymns that founder Fr. Gerard Beauregard loved to sing. Another founder, Sr. Marion MacDonald, SCIC, 90, long-time administrator of St. Vincent's Hospital, was a special guest. The after-Mass gathering on the church lawn (shown at left) included good food and great welcoming camaraderie. Fr. Beauregard Day participants who have been part of St. Gerard's from before the Opening Mass included Rosemary Anderson, Eva Donnelly, Jen Howard, Sister MacDonald, Peter Schmidt, Eileen Sinkinson, Stephen Sothy, Jim Wright, Pat Wright, and Teresa Wright.

We're turning 40! The Opening Mass in our church took place on Sunday, Sept. 5, 1971, and Archbishop James Carney consecrated St. Gerard's Church on June 18, 1972. We hope to celebrate with a 2011-12 year of thanksgiving and renewal. On Aug. 14, 2011, we got together for brainstorming, starting with a "springboard" handout. Have a look at the results report, which includes a proposed September 2011 event focused on gratefulness in an ecumenical context. Members of the wide community of St. Gerard's, were invited to participate in a brief "St. Gerard's 40th" survey, and here on August 24 are the survey findings.
Archbishop Michael Miller celebrated Mass at St. Gerard's on Sunday, July 31, 2011. Afterward, he joined 32 members of the community in a potluck lunch, as shown below.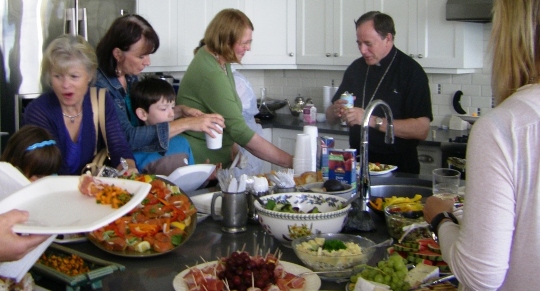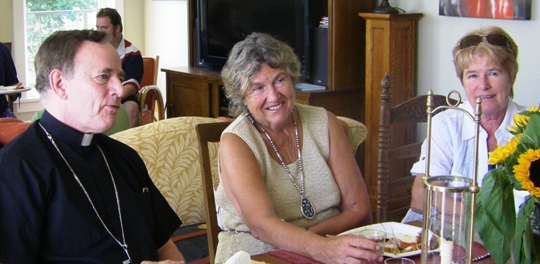 Coincidentally, that day was the 35th anniversary of the passing of a St. Gerard's founder, Harry Wright (on Bowen Island on July 31, 1976), as Archbishop Miller mentioned in his homily. It was his first visit to St. Gerard's, but it was evident that he already knew a lot about us.

On Sunday, July 10, 2011, St. Gerard's welcomed our new priest, Father Rey, more formally Father Reynaldo Usman. He quickly established a rapport with the people. Soon he was in the aisle for the homily, interacting with the congregation about the parable of the sower. An hour after Mass, he was still at the door, happily chatting.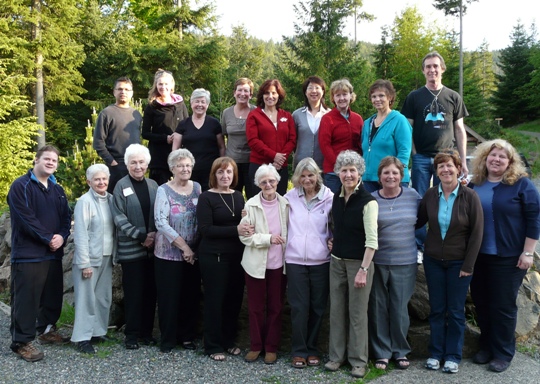 Retreat: Father Ranjan d'Sa (top left), who formerly served St. Gerard's each Sunday, flew from his current parish in London, Ontario, to facilitate the 2011 St. Gerard's Retreat. It took place at Rivendell Retreat Centre on Bowen on the May 27–29 weekend, and the theme was "Our Father." The St. Gerard's community for the event included a core group from Bowen Island, several parishioners from our sister church in North Vancouver (Holy Trinity), and others from all over, like Powell River and Hastings, New Zealand.
New stained-glass windows: When the sanctuary wall of St. Gerard's church had to be replaced, the need became an opportunity. Church members planned a simple kind of stained glass windows. The abstract design is rooted in our understanding as Christians of the great truths of the death and resurrection of Jesus as depicted by artists through the centuries.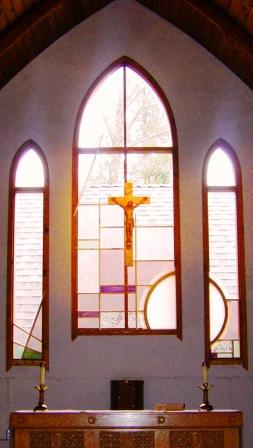 The windows were inspired by a station of the cross in an ultra-modern church in Umbria and a stained glass window in a small chapel near Grenoble by a French artist known as Arcabas.
The centre-panel mosaic of coloured blocks suggests a hill—Golgotha, with the central cross of Jesus and the two smaller crosses of the thieves.
The strong line extending from the left panel to past the crossbar of the centre panel prompts thoughts of the reed that held a sponge filled with sour wine in response to Jesus' "I thirst," the spear used to wound Jesus' side to prove He was dead, and a ladder to take the body of Jesus down from the cross.
The dominant circular shape at the bottom of the centre and right panels anchors us in the reality of the empty tomb, the resurrection, and the eucharistic body of Christ.
The B.C. Catholic newspaper has published a longer article about this. It is titled "New windows let light shine through on Bowen Island."
When Bowen Island was a holiday resort, priests from Holy Rosary Cathedral came to Bowen Island each summer Sunday to say Mass. The venues included the school, a dance hall, and Union Steamships' Evergreen Hall. Around 1960, Bowen Island Catholic Christians set out to build a church, with neighbourly help from fellow islanders. In the early 1960s, Father Gerard Beauregard, who lived with the destitute at the Catholic Charities men's hostel and worked with the homeless in Downtown Vancouver, began serving the Bowen community. Father Beauregard was devout, ebullient, brilliant, eccentric, and deeply good. He loved the island and the islanders, and he was inspired by the project. After reaching Bowen by bus and ferry, he would hike to Evergreen Hall with his backpack and black bag, engaging in animated conversation with whomever he met.