Viewing Tips: You may find these tips help you enjoy this website:


If you hover the cursor over a photo, a caption will appear.


If you hover the cursor over a hyperlink, a Snap preview will usually appear.


When you click on a hyperlink to a page from another website, it will appear in a


new window. To return to an unobstructed view of this page, close any added windows.


If you read the first screen before scrolling down, other photos will have time to load.


To adjust the "calm sea" area around the page, drag the lower-right corner of the window.
Sr. Jo has sent this March 2015 letter, with a focus on the sisters' work in Karamoja.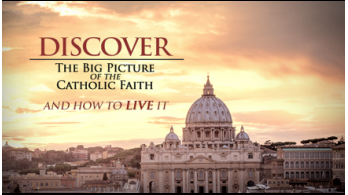 In Lent 2015, an informal group of St. Gerard's members is viewing the Symbolon series of videos about the Catholic faith. After Mass each Sunday, those who so choose get together in the rectory, the little house next to the church on Miller Road. After viewing one of the videos, they discuss it. It's valuable for both Catholics and non-Catholics, and it takes less than an hour. You can can start at any time and come to as many or few of the gatherings as you want. It's going well.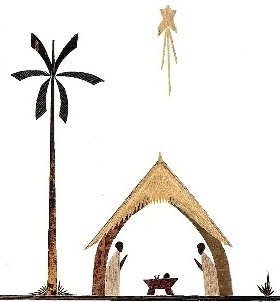 On Christmas Eve, December 24, 2014, we welcomed Fr. Jude Iloghalu of the Igbo people of Nigeria to celebrate the Nativity with us. Father Jude is visiting from the the Abakaliki Diocese. He resides at the Holy Rosary Cathedral rectory and is studying Pastoral Care at St. Paui's Hospital. If you click on Igbo people, you may find you can listen to Igbo hymns as you read.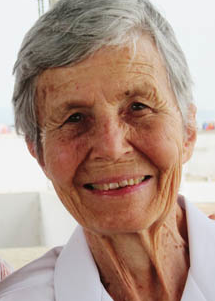 Sister Jo, rscj, of the St. Gerard's community is continuing her work in Uganda with the Religious of the Sacred Heart of Jesus. Sister Jo sent a 2014 Christmas letter and later a 2014 Christmas card.
We are sad that one of her rscj sisters was on Malaysia Airlines Flight MH17, shot down over eastern Ukraine. The late Sister Philomene Tiernan of Australia was around Sister Jo's age and a remarkable person, as we learn in this CNN report.
Thank you to the Archdiocese of Vancouver, especially Makani Marquis, for hosting our website with great service at no charge to St. Gerard's. With Makani's help, we have just switched to a new server that will speed up access to this site.
On Sunday, July 21, 2013, the parishioners celebrated Fr. Rey Day to thank Fr. Rey Usman for all his good work for St. Gerard's over the past two years. We invited everyone to a potluck lunch, and a camera caught a few of the participants (below).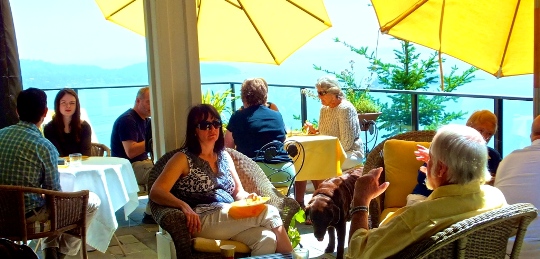 Sister Jo, rscj, invites us to visit the sisters' Uganda-Kenya website, as shown below.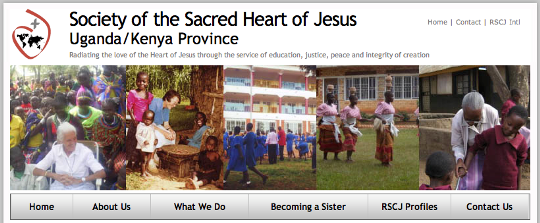 The next work party at St. Gerard's is on Saturday morning, April 20, 2013, 9–Noon, for spring cleaning inside and out. As well, the ongoing St. Gerard's renovation currently includes stone tiling of the floors, with new stone tiling in the sanctuary and, in time, the whole church. Organ repairs (air pump motor) are also underway; since the motor was very hard to access, there will be a new shed for it (outside but still near the organ).
Here's the St. Gerard's family on Sunday, April 14, 2013: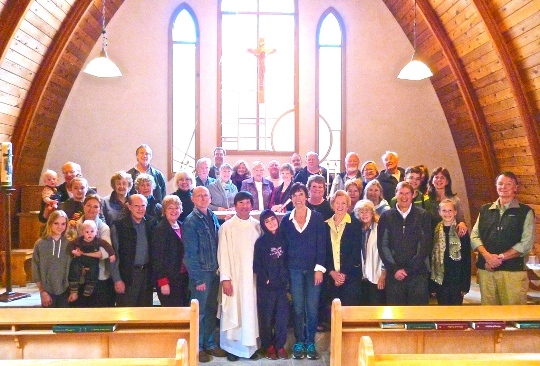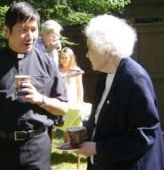 After a full life, Sister Marion MacDonald, scic, died on Nov. 15, 2012, in St.John, NB. A long-time administrator of St. Vincent's Hospital in Vancouver, Sister MacDonald was a founding member of St. Gerard's Church. We were fortunate and honoured to have sister with us in September 2011, at almost 91 years of age, to help celebrate the 40th anniversary of our church community.
November 2012 update: Sister Jo Wright, rscj, was in Canada from Uganda and enjoyed visiting St. Gerard's on three Sundays in October 2012. She returned to her work in Uganda and Kenya in January 2013 after remedies for her declining vision and hearing. Because of other health issues, she continued her Uganda-Kenya work from Halifax.
We welcomed Archbishop Michael Miller to St. Gerard's and a potluck lunch again on Sunday, August 26, 2012. We enjoy having the archbishop with us, and he seems happy too.
We thank Fr. Tim McCarthy for serving St. Gerard's for the month of June 2012.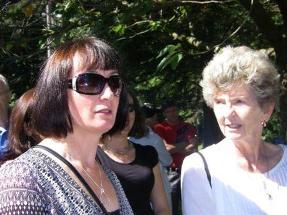 Father Beauregard Day: On Sunday, September 4, 2011, St. Gerard's Church celebrated the 40th anniversary of the Opening Mass . The Mass and reception celebrated the early days and ongoing spirit of Saint Gerard's, including hymns that founder Fr. Gerard Beauregard loved to sing. Another founder, Sr. Marion MacDonald, SCIC, 90, long-time administrator of St. Vincent's Hospital, was a special guest. The after-Mass gathering on the church lawn (shown at left) included good food and great welcoming camaraderie. Fr. Beauregard Day participants who have been part of St. Gerard's from before the Opening Mass included Rosemary Anderson, Eva Donnelly, Jen Howard, Sister MacDonald, Peter Schmidt, Eileen Sinkinson, Stephen Sothy, Jim Wright, Pat Wright, and Teresa Wright.

We're turning 40! The Opening Mass in our church took place on Sunday, Sept. 5, 1971, and Archbishop James Carney consecrated St. Gerard's Church on June 18, 1972. We hope to celebrate with a 2011-12 year of thanksgiving and renewal. On Aug. 14, 2011, we got together for brainstorming, starting with a "springboard" handout. Have a look at the results report, which includes a proposed September 2011 event focused on gratefulness in an ecumenical context. Members of the wide community of St. Gerard's, were invited to participate in a brief "St. Gerard's 40th" survey, and here on August 24 are the survey findings.
Archbishop Michael Miller celebrated Mass at St. Gerard's on Sunday, July 31, 2011. Afterward, he joined 32 members of the community in a potluck lunch, as shown below.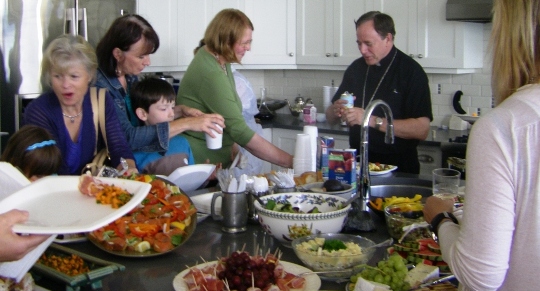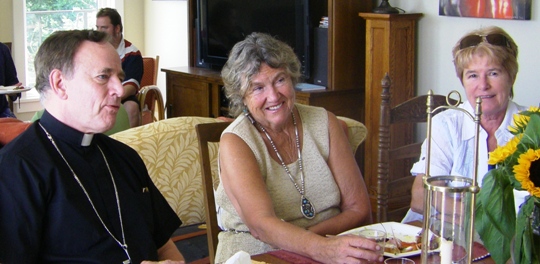 Coincidentally, that day was the 35th anniversary of the passing of a St. Gerard's founder, Harry Wright (on Bowen Island on July 31, 1976), as Archbishop Miller mentioned in his homily. It was his first visit to St. Gerard's, but it was evident that he already knew a lot about us.

On Sunday, July 10, 2011, St. Gerard's welcomed our new priest, Father Rey, more formally Father Reynaldo Usman. He quickly established a rapport with the people. Soon he was in the aisle for the homily, interacting with the congregation about the parable of the sower. An hour after Mass, he was still at the door, happily chatting.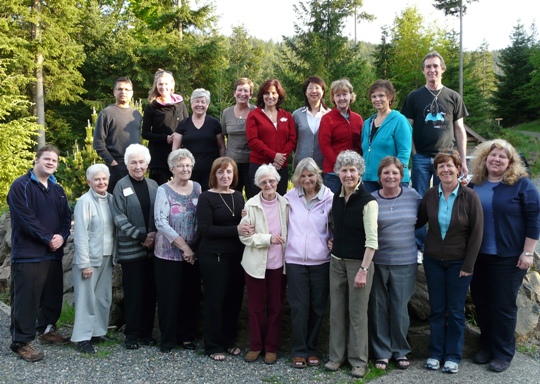 Retreat: Father Ranjan d'Sa (top left), who formerly served St. Gerard's each Sunday, flew from his current parish in London, Ontario, to facilitate the 2011 St. Gerard's Retreat. It took place at Rivendell Retreat Centre on Bowen on the May 27–29 weekend, and the theme was "Our Father." The St. Gerard's community for the event included a core group from Bowen Island, several parishioners from our sister church in North Vancouver (Holy Trinity), and others from all over, like Powell River and Hastings, New Zealand.
New stained-glass windows: When the sanctuary wall of St. Gerard's church had to be replaced, the need became an opportunity. Church members planned a simple kind of stained glass windows. The abstract design is rooted in our understanding as Christians of the great truths of the death and resurrection of Jesus as depicted by artists through the centuries.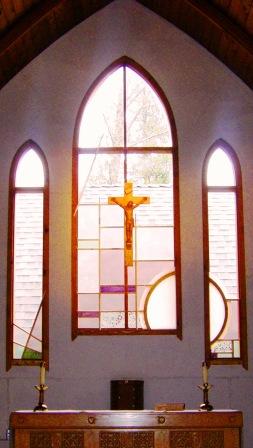 The windows were inspired by a station of the cross in an ultra-modern church in Umbria and a stained glass window in a small chapel near Grenoble by a French artist known as Arcabas.
The centre-panel mosaic of coloured blocks suggests a hill—Golgotha, with the central cross of Jesus and the two smaller crosses of the thieves.
The strong line extending from the left panel to past the crossbar of the centre panel prompts thoughts of the reed that held a sponge filled with sour wine in response to Jesus' "I thirst," the spear used to wound Jesus' side to prove He was dead, and a ladder to take the body of Jesus down from the cross.
The dominant circular shape at the bottom of the centre and right panels anchors us in the reality of the empty tomb, the resurrection, and the eucharistic body of Christ.
The B.C. Catholic newspaper has published a longer article about this. It is titled "New windows let light shine through on Bowen Island."
When Bowen Island was a holiday resort, priests from Holy Rosary Cathedral came to Bowen Island each summer Sunday to say Mass. The venues included the school, a dance hall, and Union Steamships' Evergreen Hall. Around 1960, Bowen Island Catholic Christians set out to build a church, with neighbourly help from fellow islanders. In the early 1960s, Father Gerard Beauregard, who lived with the destitute at the Catholic Charities men's hostel and worked with the homeless in Downtown Vancouver, began serving the Bowen community. Father Beauregard was devout, ebullient, brilliant, eccentric, and deeply good. He loved the island and the islanders, and he was inspired by the project. After reaching Bowen by bus and ferry, he would hike to Evergreen Hall with his backpack and black bag, engaging in animated conversation with whomever he met.